Iowa - Conservative State?
(Beautifully conservative
on Memorial Day)
When I was a student at Iowa State University working for my
master's degree, I did not feel that I was at a conservative
state.
In the state of Iowa, my husband's brother, his uncles,
and his cousins got degrees in medicine, business, drama,
and library science. My husband was in science,
and I myself was a journalism major.
So, I was surrounded by a relatively liberal university crowd.
But, after my husband's parents passed away, we inherited
his father's farm and house in rural area in Iowa.
We have been visiting Iowa at least once a year.
My view toward Iowa started to change gradually.
We, ourselves live in a southwest state.
I started to meet many different native Iowans in recent years
in this small town.
(Young farmer's John Deere tractor)
One farmer who takes care of my husband's farm is
a college graduate and he is a Trump supporter.
He has been worrying about Trump's agricultural policy
which banned the export of soy beans to China. He thinks
that Trump's export policy will be straightened up eventually.
According to him, Trump is a business man after all. Trump
is using this as one of his business negotiations.
I hope so. Anyway, this farmer was a nice person and
I didn't have any problems with him.
Conservative? Yes, but he is a good human being.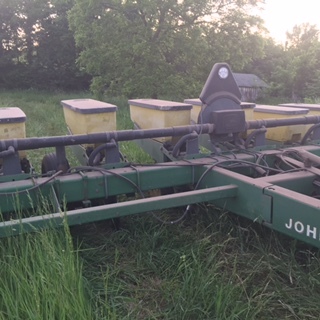 (Seed planters behind the tractor)
But, one person who I was shocked by was a young man
who I met at a neighborhood party.
When I was introduced to him,
I tried to shake his hand, but, he just stared at me.
His facial expression seemed angry. Maybe because,
many Chinese and Japanese people have been taking
over the business in which he is involved.
Maybe he has lost money in his business that
he might be blaming on Asians.
I met one Chinese woman scientist recently.
She got married to another scientist that
grew up in Iowa. After marriage,
she and her husband went back to Iowa
to see his parents in a rural area. Some neighbors
took pictures of the Chinese woman scientist
for curiosity. Because they had never seen a Chinese
person in their life.
In 2017 Presidential Election, Iowa went to Trump not Hillary.
At the time of the election, small town Iowa people
felt comfortable with Trump. They do not criticize
his gun policies because they are hunters
(they love deer hunting). They also do not criticize
his immigration policies because they agree with him
that many immigrants are stealing American people's jobs
and that some immigrants are also selling drugs.
I understand some of their fears.
If I live in Japan now, maybe I don't like that many technical
jobs are going to other Asian countries that are developing
rapidly. There is a little similarity here.
(My walking trail)
(リスと面会。この平和を乱されたくないのね)
(アミシュも移住して来ました。
レストランで働くアミッシュの少女)
(この土地の典型的な可愛らしい家)
スポンサーサイト