Our New Air conditioner
$9,000.00!
After twenty years of hard working,
our air conditioner conked out.
So, we had to spend about $9000.00 for the new
air conditioner for our 2500 sq. feet house.
I calculated our house to be described in the Japanese way:
2500 sq. ft x 0.093=232.5 sq. meters
Our air-conditioner unit is made by Carrier Corporation and
is both a gas furnace and an air conditioner. This system
gives us the benefit of gas heating and electric cooling in one
package.
On the roof
We placed our air conditioner on the roof of our house.
The old air conditioner was making a noisy sound at
the end of its life. So, the quietness of the sound was one of
the most important factors when we bought this new
air conditioner.
Carrier Air Conditioner
What I learned about the technology of our new air conditioner is:
1 Compressor - the heart of the cooling system on the
bottom of the unit is called compressor and
quietness is very important
2 Energy saving blower - controls airflow for the house's heating and
cooling system electronically
3 Weight of the system is almost 500 lbs.(226.7kg.)
4 Dr. Willis Carrier (engineer) invented this air conditioning
in 1902 (long time ago!)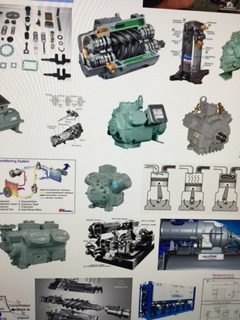 (コンプレッサー、いろいろ)
We live in one of the southwest states and this summer,
the temperature exceeded 100 Fahrenheit degrees
from time to time. 100 degrees in Fahrenheit is
over 37.8 Celsius. That's why our 20 year- old
over worked air conditioner finally conked out.
I stayed at the hotel where my husband stays from time to time.
I needed to escape from this heat until the new air conditioner was installed.
Return air
When the Carrier air conditioner was installed,
the crane was used to carry the new unit to the top of the roof
and brought the old unit down. I was very fascinated to
watch the crane's movement to carry our old 500 pounds unit
down and the new unit up on the roof.
In the US, we use the system called return air. It means
the cooling system comes down through the vents on the floor
and the hot air going out through the duct near the ceiling in summer.
Thus, the air of the cooling and heating system circulates.
Anyway, I'm happy to live in the house with the efficient cooling
system in this hot summer with the temperature more than
100 degrees in Fahrenheit. Hwww!
(家の中の温度は76度。
でも、74度にしたい時には
右側に希望温度を入れます。
今日は、74度で行こう、とか。
当たり前な話ですが。。。)
(床のヴェンツから、冷たく、あるいは、暖かく
設置した空気が室内に入って来ます)
(室内の空気は天井近くの壁に設置された
導管から外に出て行きます)
(暑い! 料理は簡単に。)
(暑くても、Summer Jazzは咲いています!)
(Summer Jazz Akiraに行きます!)
スポンサーサイト